TICKETS ARE ON SALE as of January 1, 2023! The show runs February 24 to April 1, 2023. When you buy your tickets, you can add-on a UK dinner for ALL SHOWS or purchase dinners or snacks from the concession operated by Paulina's Catering. Looking to save a little $$? The first show is a BOGO night – get two tickets for the price of one!
CLICK HERE TO PURCHASE TICKETS!
The Beverly Heights Variety Show was started in 1971 as a fundraiser for the Beverly Heights Community League and has continued through the years – thanks to our wonderful volunteer cast, crew, committee and those volunteering each night to bring this incredible event to you – our supporters.
Follow us on the Beverly Heights Variety Show Facebook page or Instagram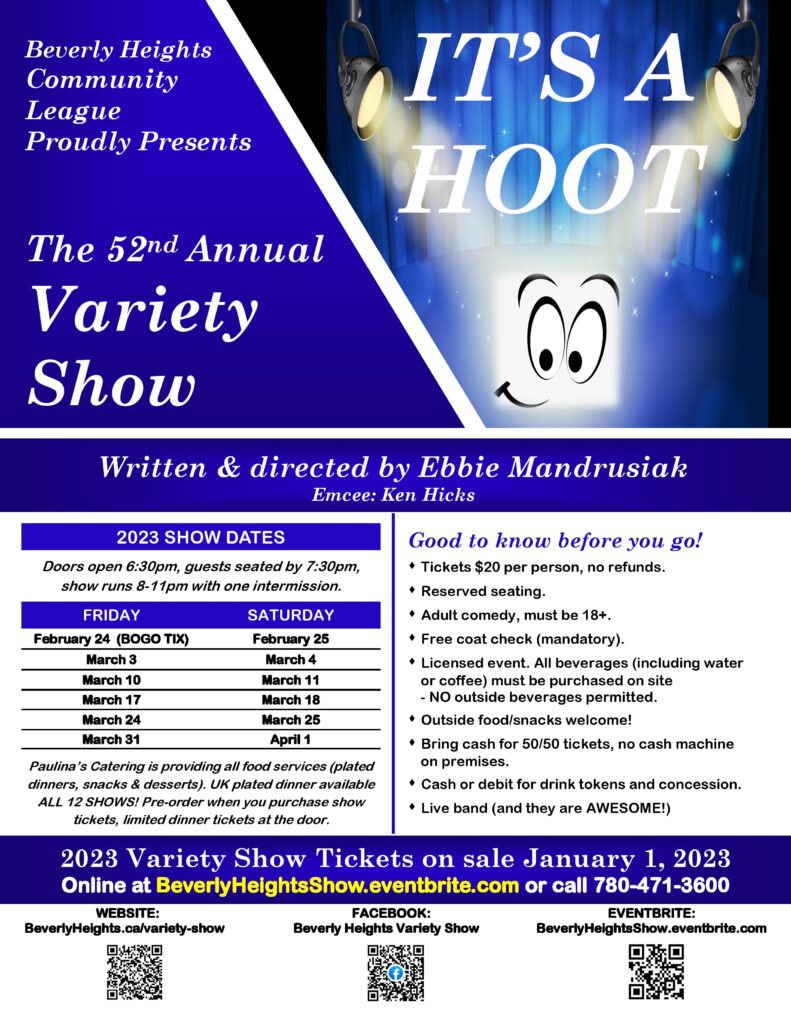 Program Advertising Opportunity
Do you have a business in the Beverly area? Here is your opportunity to reach up to 280 patrons with an ad in our Beverly Heights Variety Show program. The program is printed in full color, with full page, half page and quarter page ads available. The deadline to reserve ad space is January 27, with artwork and payment due February 6, 2023. Interested? Email varietyshow.bhcl@gmail.com for ad prices and details!
Wine & Cheese Volunteer Recruitment Night: DECEMBER 6, 2022 at 7pm in the Beverly Heights Hall 4209 111 Avenue: Save the date and join us at the Wine & Cheese Volunteer Recruitment Night to sign up for a volunteer position for one or all of the 12 shows. Volunteers are needed for the cast, crew, floor staff, 50/50 ticket sellers, token booth, bartenders, coat check, costumes, props, technical and more – email varietyshow.bhcl@gmail.com if you'd like to volunteer! The show will run Fridays and Saturdays February 24 to April 1, 2023. Watch for tickets to go on sale January 1, 2023 – you don't want to miss this fun, adult comedy night out! See below for the Volunteer Role Descriptions.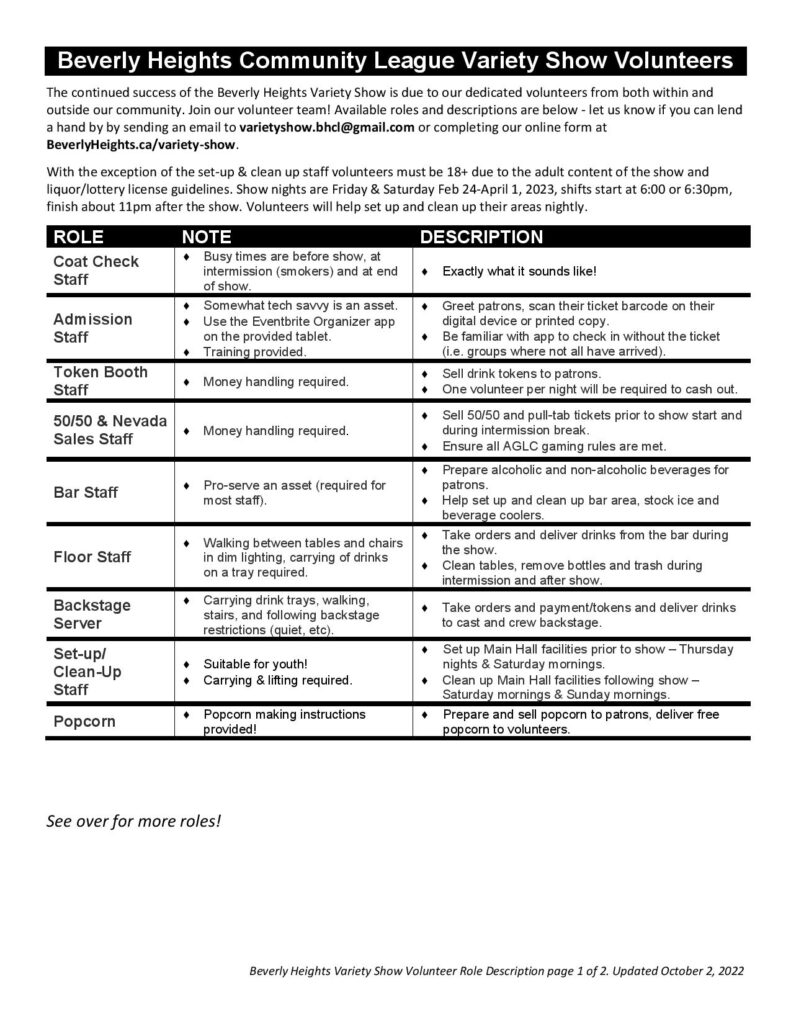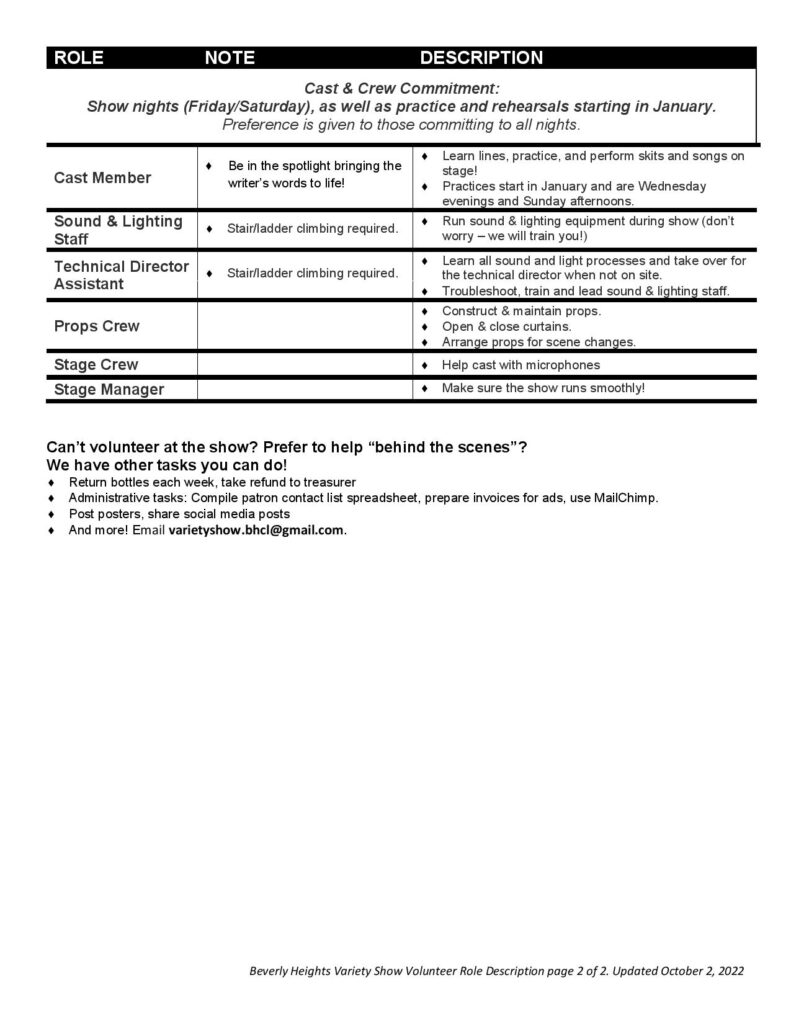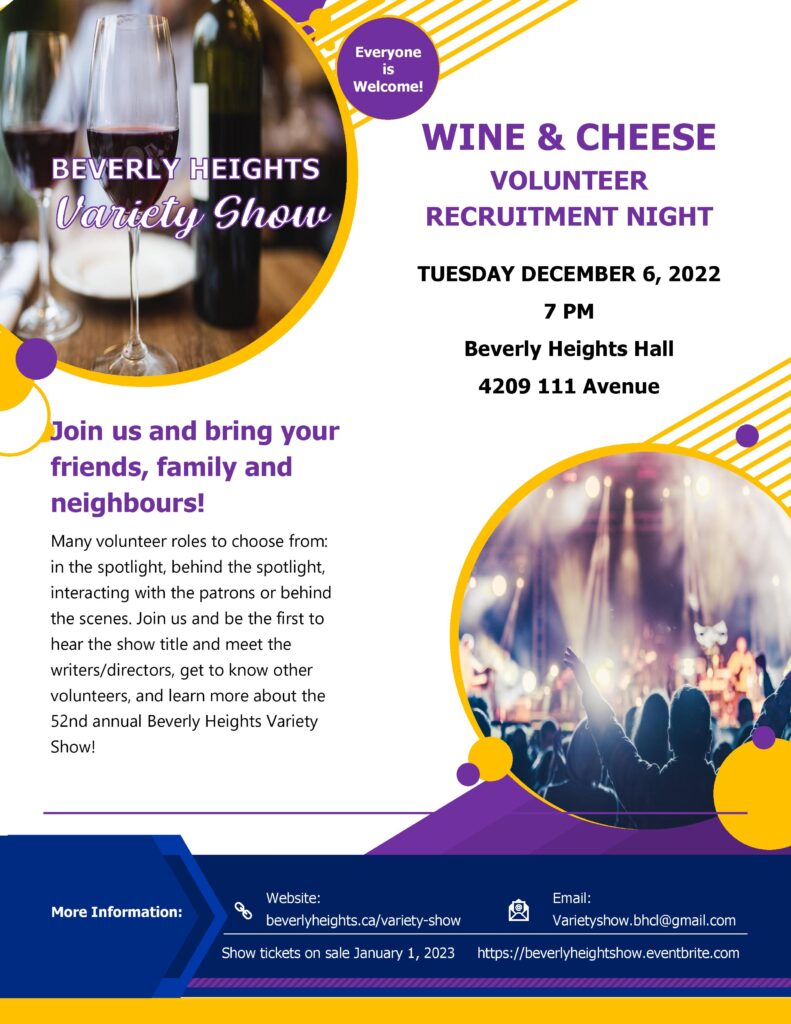 Variety Show Timeline:
July/August: Variety Show Committee members recruited
September/October: interview potential writers/directors
Early December: Volunteer Recruitment Wine & Cheese – sign up to volunteer on the cast, crew, and supporting roles! SAVE THE DATE: Tuesday December 6, 2022 at 7pm.
January: rehearsals start, twice a week until show time. Tickets go on sale January 1!
Show runs 5-6 weekends (10-12 shows) starting the end of February (February 24 to April 1, 2023).
April 2, 2022 Update: Wow – what an incredible run of 12 shows! The Hindsight's 2022 show got great reviews! Thank you to all who supported the Beverly Heights Variety Show – the volunteers, cast, patrons and sponsors. Watch for the 2023 show news to be added!
How can I help?
The Variety Show would not continue without our dedicated volunteers. As you might imagine, this shows requires a lot of support, for all jobs from ticket sales to lighting to props to liquor sales. Want to know more about the available jobs? Please read up on all the roles here. If you would like to volunteer, please submit a form or email us at varietyshow.bhcl@gmail.com!

You can also help by purchasing a ticket and attending a show! All of the proceeds from the ticket sales go directly to programming in our community.