Our board members are Beverly Heights residents who share their time and expertise in the hopes of creating a better community.
We meet on the third Wednesday of every month at 6:30 p.m. Everyone is welcome to attend. If you'd like to attend a meeting, please email [email protected] for details about location.
Annual General Meeting
Our 2023 Annual General Meeting was held on Wednesday April 19, 2023. The AGM is held annually in April and is open to all BHCL members to attend.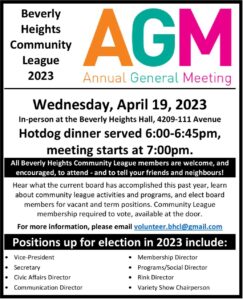 Board Positions
Board positions are elected for 2-year terms. Incumbents are welcome to stand for re-election. To vote in the Annual General Meeting or to be eligible for a position on the board, you must be a Beverly Heights Community League member in good standing (meaning you hold a current membership and live within the community league boundaries – east of 50th Street, south of 118th Avenue, and north/west of the river). Memberships will be sold at the door.
All board members attend monthly meetings (currently the third Wednesday of the month at 6:30 pm) and will prepare and present a report at the Annual General Meeting. Additional committee work may be available and is optional unless part of the position's duties.
For position descriptions, click here.
Our Community League Bylaws, updated in 2011, can be found online here.
2023/2024 Board Members
Please email [email protected] with general inquiries and your email will be forwarded to the appropriate board member.
Executive:
President – Tracey Hirtle – [email protected]
Vice President – Riplea Matheson – [email protected]
Secretary – Vacant
Treasurer – Jackie Ewanchuk – [email protected]
Past President – Jim Trudel
Directors:
Civic Affairs – Chris Keeler
Communications – Vacant
Fundraising & Casino – Riplea Matheson
Green Spaces – Debra Jakubec
Maintenance Director – Alvin Ewanchuk
Membership/Community Liaison – Vacant – [email protected]
Programs & Social – Donna Shostak – [email protected]
Rink Director – Vacant
Variety Show – Sara Zurbrigg – [email protected]