Our board members are Beverly Heights residents who share their time and expertise in the hopes of creating a better community.
We meet at the Hall on the second Tuesday of every month at 6:30 p.m. Everyone is welcome to attend.
Our 2020 Annual General Meeting will be held on September 15 at 7:00 pm. Please note that due to COVID-19, we will be following all social distancing requirements, as determined by Alberta Health Services. The meeting will be held in the Main Hall. All attendees will be required to wear a mask, as per the City of Edmonton face-covering bylaw.
We will elect the following term positions: President, Treasurer, Facility Maintenance Director, Fundraising Director, Neighbourhood Watch Director, Programs/Social Director, and Publicity/Communications Director. For details on each of the positions, please see the descriptions here.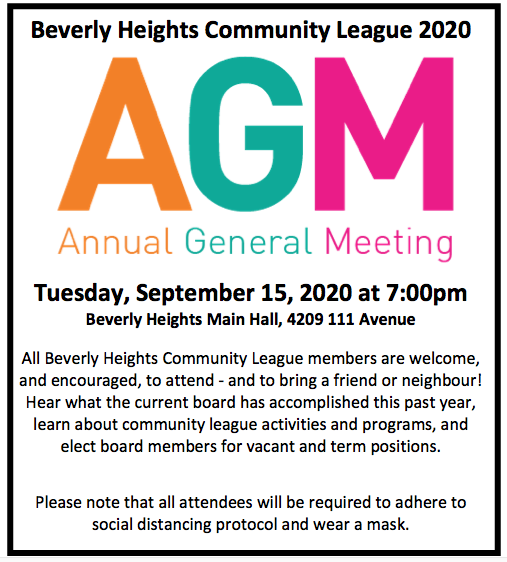 2019/2020 Board Members
Executive:
President – Jim Trudel
Vice President – Meighan Jones – volunteer.bhcl@gmail.com
Secretary – Jason Burgardt
Treasurer – Meike Ricardo – treasurer.bhcl@gmail.com
Past President – David Grist
Directors:
Civic Affairs – Chris Keeler
Facility Maintenance Director – Alvin Ewanchuk
Fundraising – Peggy Schumann – fundraising.bhcl@gmail.com
Membership/Community Liaison – Crystal Boyde – membersbhcl@hotmail.com
Neighbourhood Watch – Jackie Ewanchuk
Publicity & Communications – Corrine McKell
Rink Director – Nathan Tuckwood
Programs & Social – Crystal Boyde – membersbhcl@hotmail.com
Sports – Vacant – bhclsportsdirector@gmail.com
Variety Show – Chris Keeler – varietyshow.bhcl@gmail.com
Are you interested in learning more and potentially joining the team? For position descriptions, click here.
Our Community League Bylaws, updated in 2011, can be found online here.