Our board members are Beverly Heights residents who share their time and expertise in the hopes of creating a better community.
We meet at the Hall on the second Tuesday of every month at 6:30 p.m. Everyone is welcome to attend.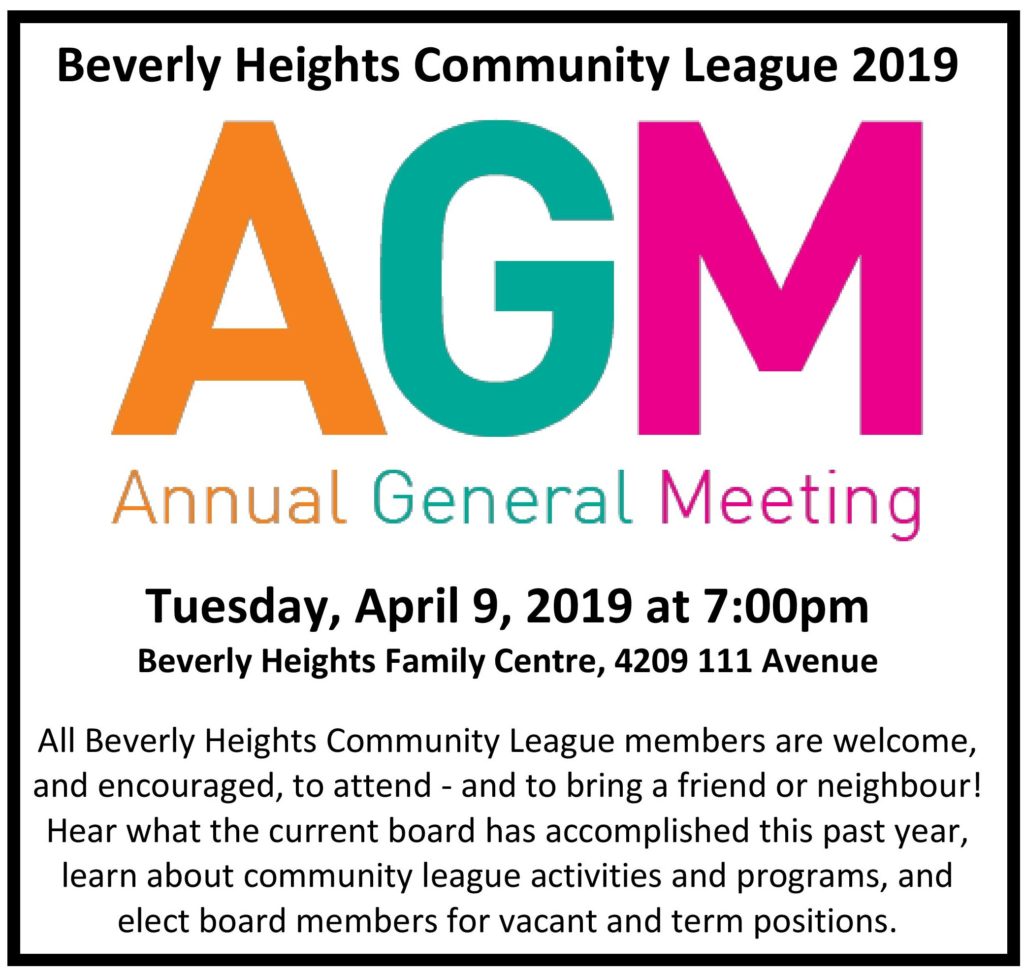 We invite you to attend the BHCL Annual General Meeting at 7pm on Tuesday April 9, 2019.  We will meet at the Beverly Heights Hall – Family Centre – at 4209 111 Ave NW.  Please share the invitation with neighbours and friends in the area.
Learn about community league activities and programs, hear what the current board has accomplished this past year, and elect board members for vacant and term positions. A 2018/2019 BHCL community league membership is required to vote and will be available to purchase at the door.
Positions up for election this year include:
Vice President
Secretary
Civics Director
Membership/Community Liaison Director
Publicity & Communications Director
Rink Director
Sports Director
Program/Social Director.
We have some incumbents interested in continuing but welcome new members interested in taking on a role! Please see the BHCL Board Positions for a short description of the positions.
2018/2019 Board Members
Executive:
President – Jim Trudel
Vice President – Tracey Hirtle – volunteer.bhcl@gmail.com
Secretary – Jason Burgardt
Treasurer – Meike Ricardo – treasurer.bhcl@gmail.com
Past President – David Grist
Directors:
Building Maintenance – Alvin Ewanchuk
Civic Affairs – Chris Keeler
Community Liaison – Kathy Morrison
Fundraising – Peggy Schumann
Membership – Crystal Boyde – membersbhcl@hotmail.com
Neighbourhood Watch – Jackie Ewanchuk
Publicity & Communications – Jessica Kinsella
Programs & Social – Vacant
Sports – Peggy Schumann – bhclsportsdirector@gmail.com
Variety Show – Ken Boyde – varietyshow.bhcl@gmail.com
Are you interested in learning more and potentially joining the team? For position descriptions, click here.
Our Community League Bylaws, updated in 2011, can be found online here.