Beverly Heights Community League hosts a number of annual and ad-hoc events throughout the year. Some community favourites are the Christmas Craft & Gift Show and the Variety Show!
Wednesday Morning Coffee
The doors are open and the coffee is on Wednesday mornings from 10:00 – 12:00. All ages are welcome to this drop-in event.
Feel free to pop in just for a few minutes or stay for awhile and enjoy the company (and the snacks).
Some weeks we will feature guest speakers. Check our website or Facebook group for more information.
Christmas Craft & Gift Show
Save the date – Saturday, November 23 from 10am – 4pm will be the 26th Annual Christmas Craft & Gift Show.
Vendor tables are sold out! We are so pleased to welcome many returning and new vendors for this year's show.
Please mark your calendar and plan to join us for some shopping! If you are able to volunteer part of your day, please sign up here!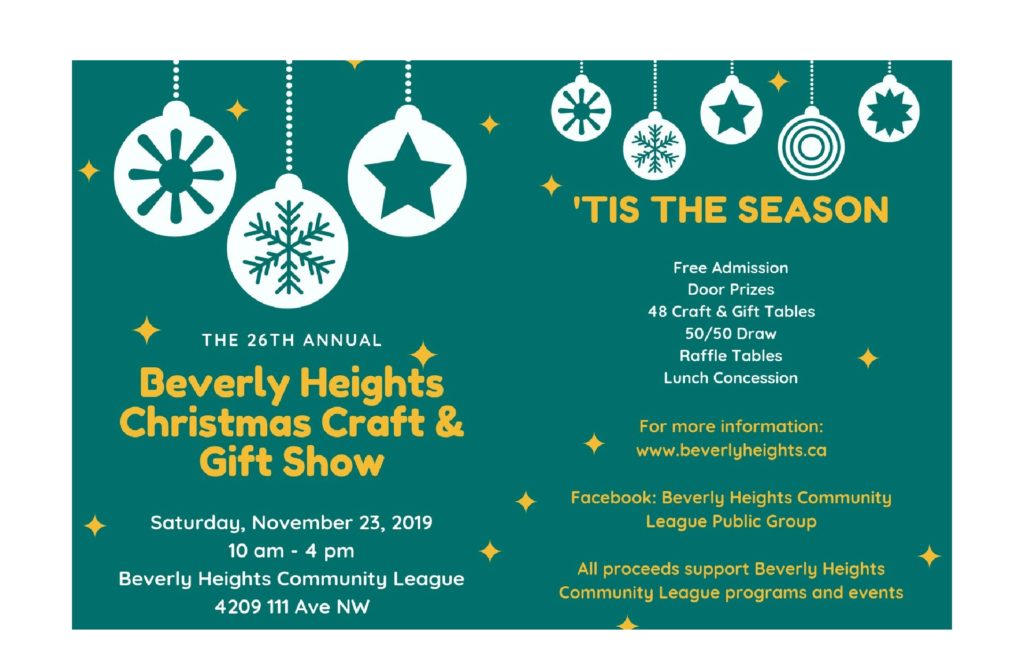 Variety Show Volunteer Recruitment Night
Our 50th Annual Variety Show will take place in early 2020. Join us on Wednesday, November 27 at 7:00 pm to find out more about the show and learn about the volunteer opportunities.
Wine/beer and cheese will be served. Bring a friend or a neighbour and come find out what the Variety Show is all about!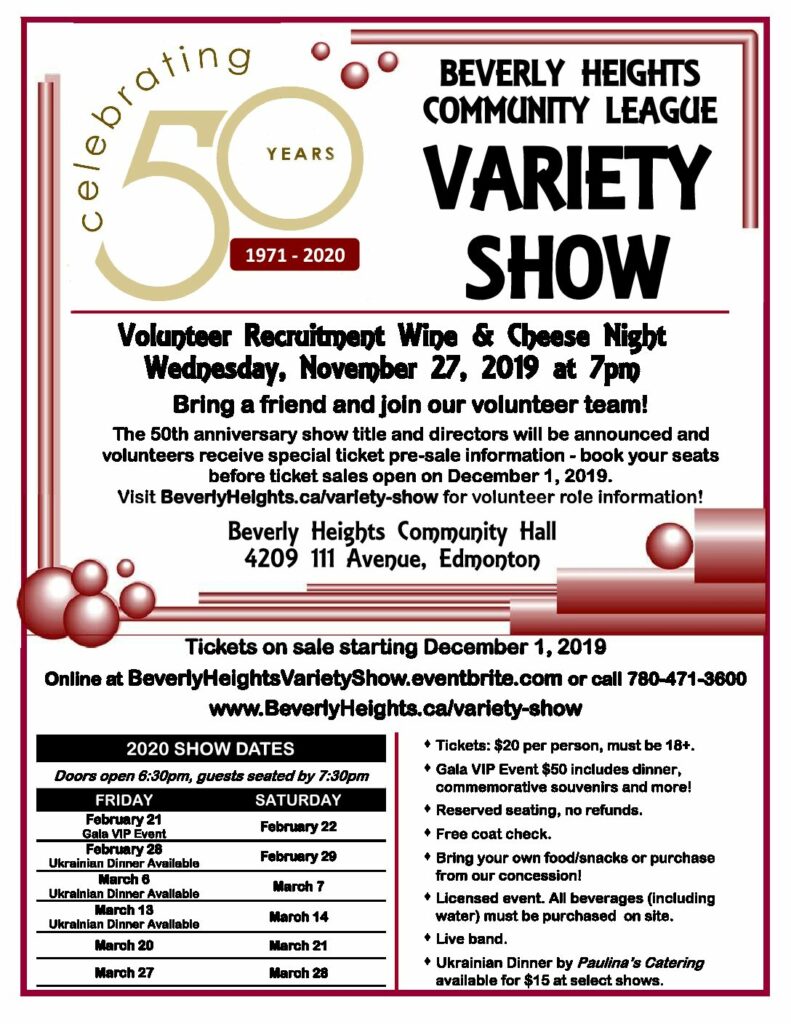 Taste of Supper Series
Our next event will be a Taste of Lebanon on November 30, 2019.
Tickets are $35 per person. All ages are welcome, but there is no reduced pricing for children. For tickets, please contact our Programs & Social Director, Crystal Boyde at 780-289-0995 or membersbhcl@hotmail.com.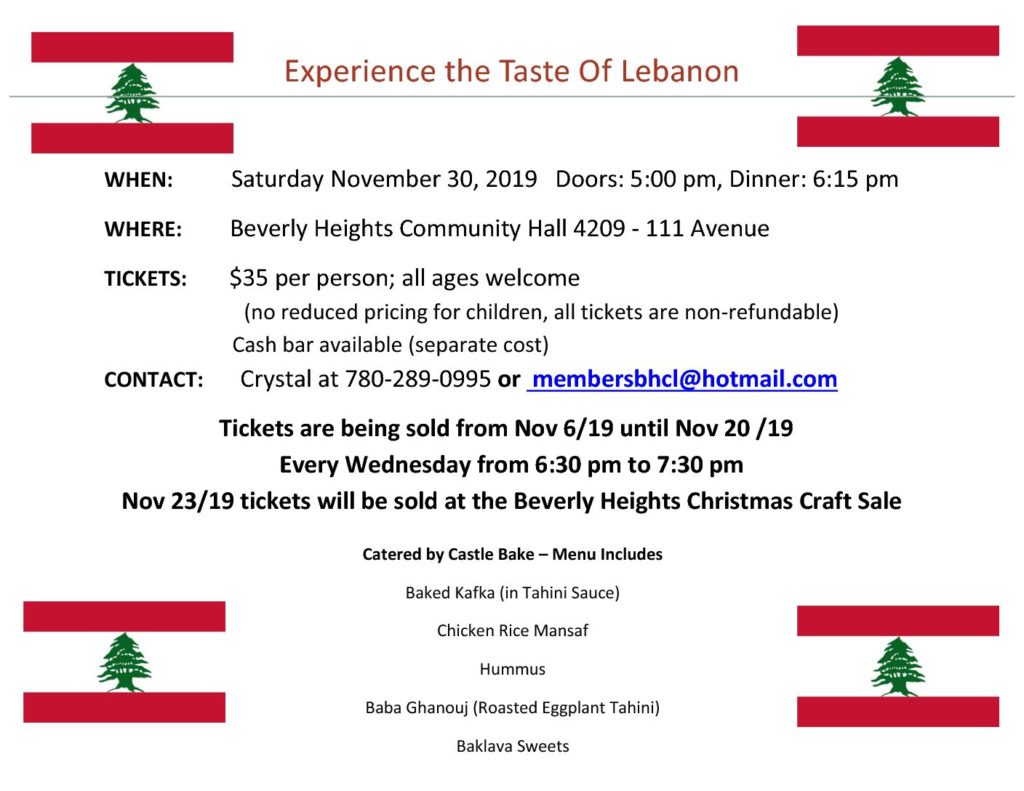 Join us for an evening to experience food, music, and alcohol from another country! Our first event was Taste of Romania, followed by Taste of Greece, and most recently Taste of Germany (aka Oktoberfest in Beverly). Attendees from these events left full of delicious food.
Save the date – January 18, 2020 will be the Taste of Philippines event!
B.A.S.S. Christmas Party
Join our Beverly Area Seniors for Christmas Party on Wednesday, December 4 from 12:30 – 2:30. Tickets are $20 for members; $30 for non-members. Your ticket price includes lunch and wine.
For more information on B.A.S.S. click here.
2nd Annual Christmas Lights Tour
We sold out two buses last year to visit the holiday lights at Candy Cane Lane and Castrol Raceway! Looking forward to another busy event.
Details:
Friday, December 13, 2019 *Please note updated date!
Meet in front of the Beverly Heights Community League by 5:45
Board bus at 6:00 pm
Tickets are $10 per person (no reduced price for children)
Tickets will be on sale at the Hall November 6 – December 4 from 6:30 – 7:30. Tickets are limited and non-refundable. Contact Crystal Boyde for more information at 780-289-0995.
Merry Little Christmas Party
Our second annual Merry Little Christmas Party will be on Sunday, December 15 at 2:00. We will be showing The Polar Express movie in the Main Hall, while a pub afternoon will be on in the Family Centre.
Look forward to a visit from Santa Claus to meet the children from our community and give a few sweet treats.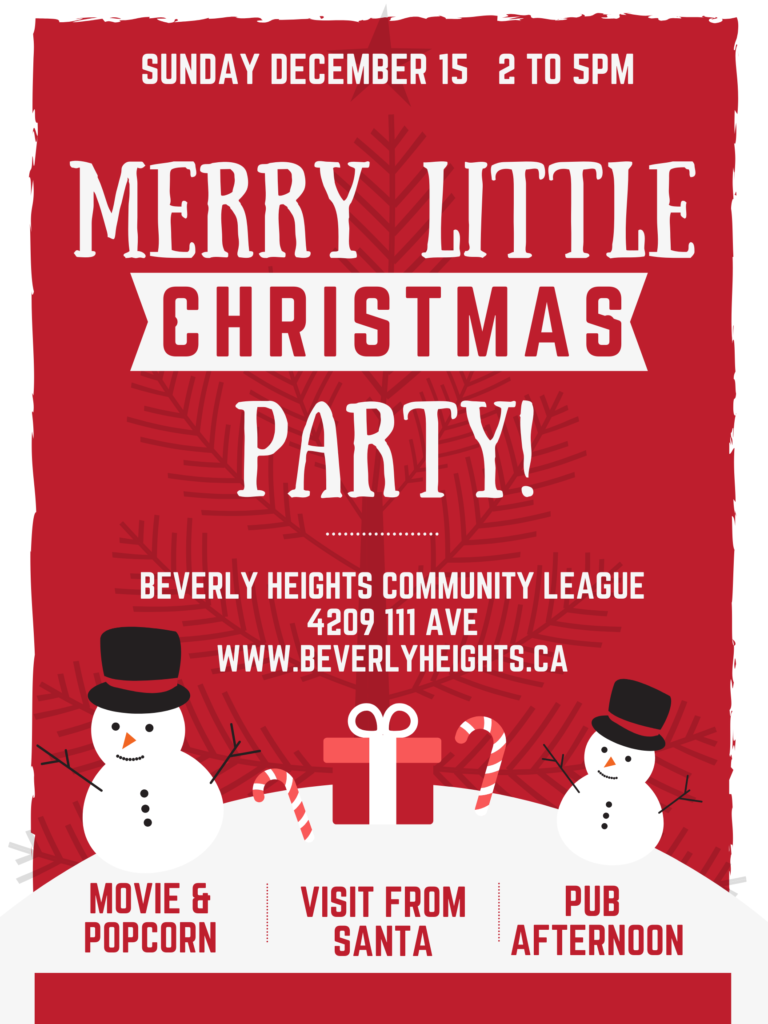 New Year's with BHCL
2019 was brought in with a New Year's Eve Party at the Hall along with our first annual Wobbly Skate at the Rink. We danced the night away only to find fresh snow and sunshine to start the year. We look forward to ringing in 2020 with you!
New Year's Eve Dinner & Dance
In the Family Centre at the Hall
Doors open at 5:00 pm, Dinner at 6:00 pm, Dance at 8:00 pm
Tickets for dinner & dance is $25 per person; Dance only is $10 per person
Tickets will go on sale at the Christmas Craft & Gift Show (November 23 from 10-4). We do require a minimum number of purchased tickets to run this event. The deadline to purchase tickets is December 27. Contact Crystal Boyde for more information at 780-289-0995.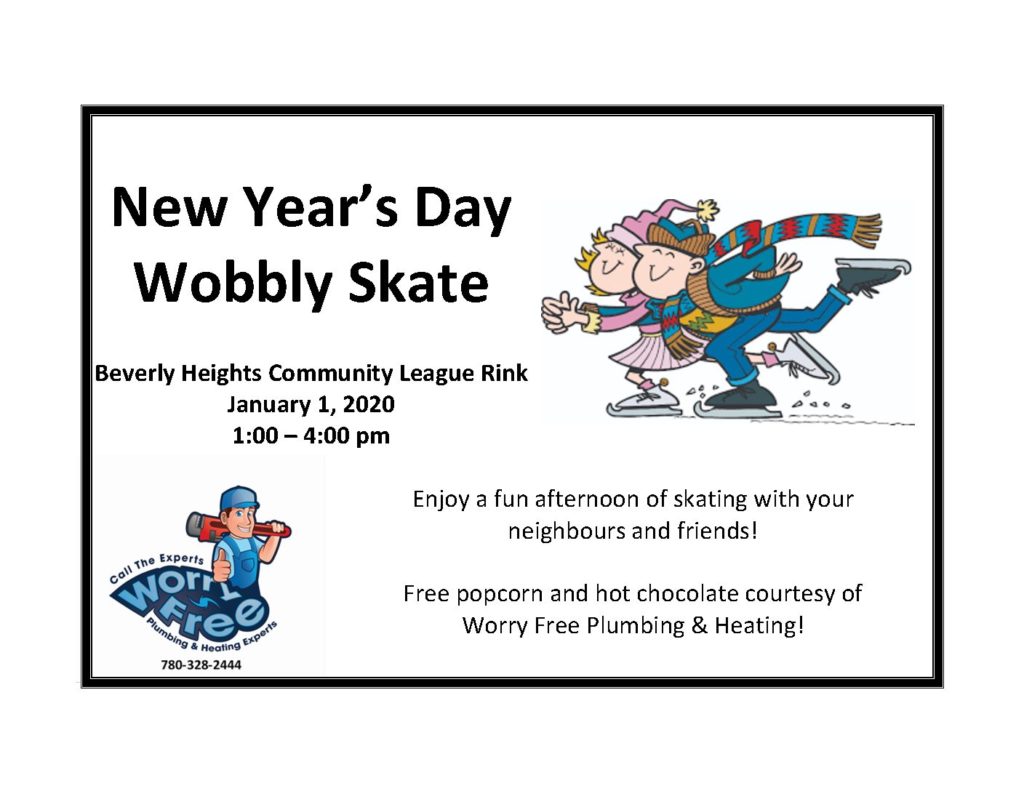 Beverly Heights Variety Show
The Variety Show serves as our community league's major fundraiser for the year. This allows us the money to fund shortfalls in the programs we offer, helps to pay for the green shack program, allows us to have 2 skating rinks operating each winter, and maintain the wonderful facilities we have.
We run Friday and Saturday nights from mid-February until the end of March. We tell jokes, act out skits, and even sing and dance! With close to 200 volunteers we like to shock and amaze our customers with our friendly staff, quality of show, and a great evening out.
You can find out more information on the Variety Show through our website.

Community League Day

Community League Day is an annual city-wide celebration, hosted individually by each community league. The City of Edmonton is unique in its network of community leagues and this is something to celebrate.
Our 2019 Community League Day was held on September 14. Check back for details about our 2020 Community League Day!