Beverly Heights Community League hosts a number of annual and ad-hoc events throughout the year. Some community favourites are the Christmas Craft & Gift Show and the Variety Show!
Taste of Supper Series
Join us for an evening to experience food, music, and alcohol from another country! Our first event was Taste of Romania, followed by Taste of Greece. Attendees from both events left full of delicious food.
Our next event will be a Taste of Germany on September 21, 2019. Please see all details on the poster included below.
Tickets will be on sale August 21, 29, Sept 5, and 12 from 6:30 to 7:30 at the Hall. If you would like your tickets sooner, please contact our Programs & Social Director, Crystal Boyde at 780-289-0995.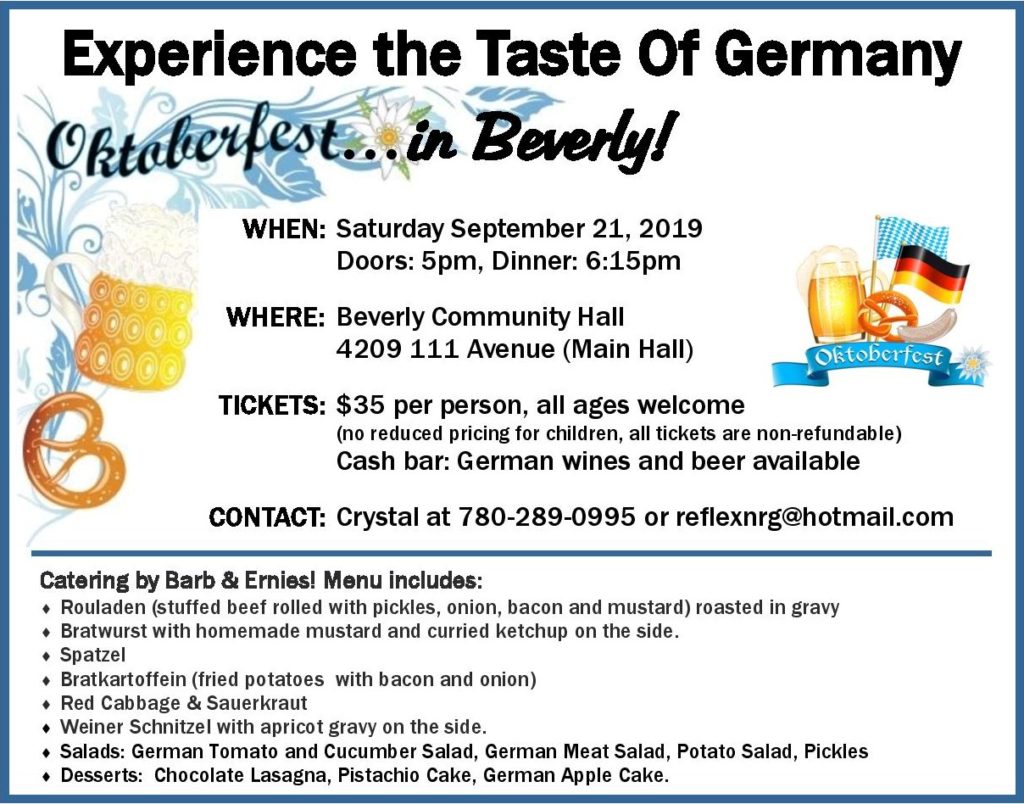 Community League Day

Community League Day is an annual city-wide celebration, hosted individually by each community league. The City of Edmonton is unique in its network of community leagues and this is something to celebrate.
Our 2019 Community League Day will be held on September 14 from 2:00 – 10:00. Please save the date!
We will be looking for volunteers to assist with this event. Types of roles and hours are variable. If you could lend a hand, please contact our Programs & Social Director, Crystal Boyde at 780-289-0995 or via email memberbhcl@hotmail.com.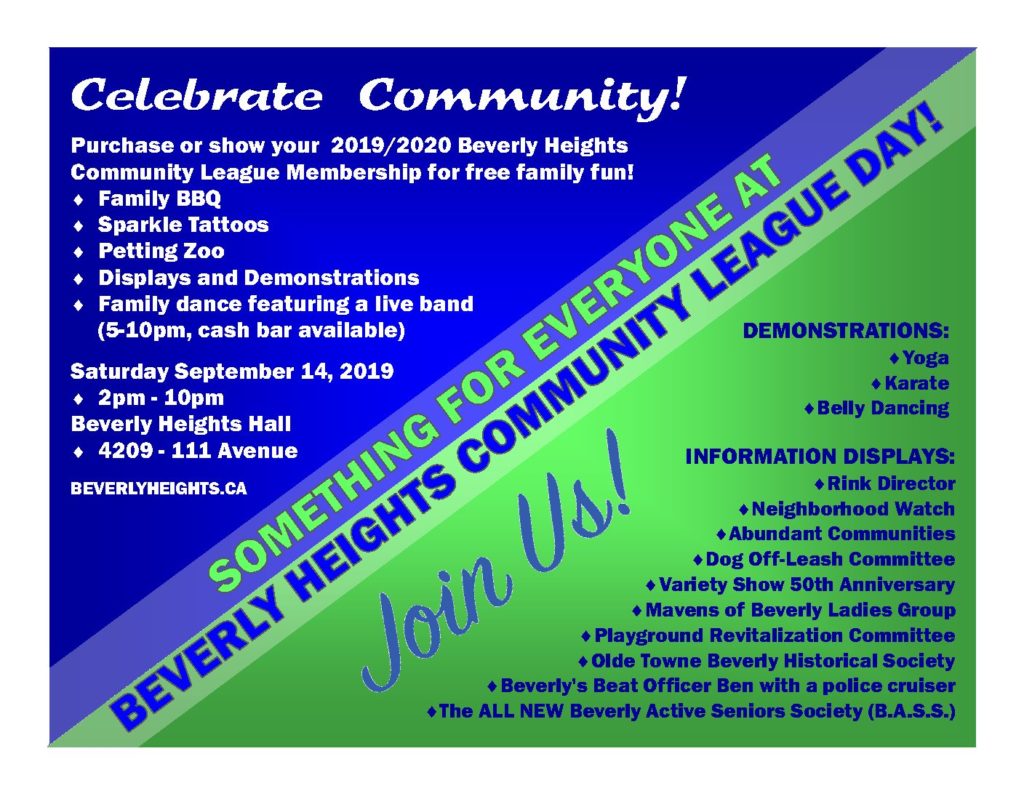 Beverly Heights Variety Show
The Variety Show serves as our community league's major fundraiser for the year. This allows us the money to fund shortfalls in the programs we offer, helps to pay for the green shack program, allows us to have 2 skating rinks operating each winter, and maintain the wonderful facilities we have.
We run Friday and Saturday nights from mid-February until the end of March. We tell jokes, act out skits, and even sing and dance! With close to 200 volunteers we like to shock and amaze our customers with our friendly staff, quality of show, and a great evening out.
You can find out more information on the Variety Show through our website.

Christmas Craft & Gift Show
The 25th Annual Beverly Heights Christmas Craft & Gift Show was a hit! We had over 450 shoppers browsing through our main hall full of handmade items from talented returning and new vendors. In the Family Centre, home-based business representatives offered fabulous gift items without having to attend a home party.
Check back in fall of 2019 for information regarding the 26th Annual Show.
Merry Little Christmas Party
Our inaugural Merry Little Christmas Party was held on December 9. We had a showing of the movie Elf in the Main Hall along with a pub afternoon in the Family Centre.
Santa Claus even joined our event to meet the children from our community and give a few sweet treats.
Look forward to seeing you next year for this event!
New Year's with BHCL
2019 was brought in with a New Year's Eve Party at the Hall along with our first annual Wobbly Skate at the Rink. We danced the night away only to find fresh snow and sunshine to start the year. We look forward to ringing in 2020 with you!