Email rentals.bhcl@gmail.com to check your dates and request a hall showing appointment.
Looking for a great venue for your next gathering? The Beverly Heights Community League is an ideal location for all types of events. We are situated in the scenic Floden Park overlooking Edmonton's North Saskatchewan River Valley and downtown Edmonton.
We have two recently renovated spaces available to suit your event. Both spaces have access to central washrooms and are wheelchair accessible.
We look forward to working with you to host your event. We offer partial janitorial services as part of your Main Hall rental fee, and have a supervisor on site during your Main Hall event to assist with any requests.
Main Hall
The Main Hall can accommodate up to 300 people. Seating capacity with tables is lower (maximum 280) depending on your required layout. We have rectangular tables and padded chairs to suit any event in an air conditioned space. The Main Hall also features a stage and a commercial kitchen, with ample space for your caterer.
Daily rental fees vary depending on what you are looking for!
$950, with no use of the kitchen
$1150, with use of a butler's kitchen
$1300, with full use of commercial kitchen
Weekend Special (Friday to Sunday, perfect for weddings) $1600, with full use of commercial kitchen
Don't need a whole day? Hourly rental fee is $175, with a minimum booking of four hours.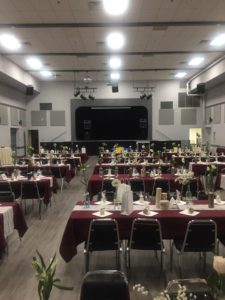 Family Centre
The Family Centre can comfortably accommodate up to 60 guests. We have tables and chairs to suit a smaller function. The Family Centre has a kitchen equipped with a large cooler and stove, as well as a dry bar.
Daily rental rate is $450, with access to the serving kitchen (not suitable for caterer). Hourly rental rate is $75, with a minimum booking of four hours.